Interguild is excited that our 2019 AGM will take place at the WE Global Learning Centre on Wednesday the 15th of May.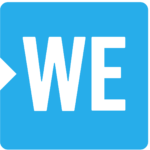 We extend our gratitude to Sean Mitchell, Director of Independent School Educational Partnerships and the team at WE Schools, for inviting us into to their global headquarters to learn how this Toronto based organisation has become a world leader in making change for good across the globe.
We invite you to join us for speaker Leysa Cerswell Kielburger's presentation on "Promoting Well-being through Experiential Service Learning".
What is Experiential Service Learning?
Children and youth are experiencing more issues related to mental health than ever before, we have an opportunity to transform the conversation around well-being and understand further how service learning is being infused into our schools, our families and our local and global communities.
Join the conversation around how innovative experiential service learning programs can engage parents, educators and group leaders to empower children and youth with skills, knowledge and motivation to bring positive change in the world.
Our Speaker
Leysa Cerswell Kielburger is a Senior Advisor for WE Well-being, an initiative that empowers people of all ages with educational programs, resources, and opportunities to promote their own mental well-being and the well-being of others.
Leysa is also a faculty member at the Centre for Mindfulness Studies, where she trains educators and health care practitioners in mindfulness-based cognitive therapy and stress reduction. She runs the Centre's Psychology Aid program for homeless and unstably housed youth. Prior, she was based at Bellevue Hospital in New York City, where she worked in the Bellevue/NYU Program for Survivors of Torture.
Leysa has taught and worked in North America, Southeast Asia, and East Africa.
She is completing her PhD in Clinical Psychology, with her research and dissertation focus on mental health care for underserved and marginalized populations.
Our Culinary Sponsor
Dana Transforms the Food Service Experience, Every Day!
From Scratch, Fresh, Local
We are pleased to have Dana Hospitality as our culinary sponsor.
Dana Hospitality LP is proudly Canadian with a culture rooted in culinary excellence. Dana has more than one thousand employees in over one hundred locations, working together to create exceptional culinary experiences – one meal at a time.
Dana Hospitality has grown to include Morningstar Hospitality – a majority Aboriginal-Owned foodservices company. They specialize in preparing meals from scratch for colleges, universities, retail healthcare, recreational, leisure venues, and corporations of all size. They are an authentic Canadian alternative to the international foodservice conglomerates and self-operations.
Their business arrangements are for on-site corporate foodservice programs, retail-style cafés, education residence dining and student meal plans, catering services for any size event, national branded franchise operations and facility design, capital planning, and project management.
But no matter how much they grow, they maintain our focus on creating a distinctive food experience, made from scratch with fresh local ingredients – every day.
We look forward to welcoming you at the AGM.